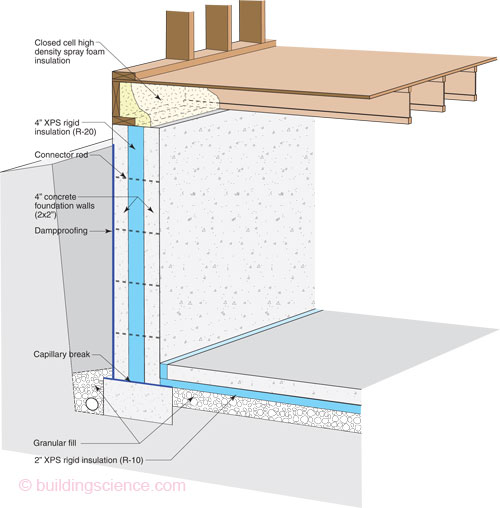 Dampproofing
4" XPS rigid insulation
Two 2" concrete foundation walls
2" XPS rigid insulation under slab
---
Thermal Control

This construction strategy has an installed insulation R-value of R-20, and has a predicted annual heating energy loss of 19.24 MBtus. Unlike some of the other wall systems there may be thermal mass benefits of the interior exposed surface of concrete. There is a small thermal bridge through the footing and interior surface of concrete that does increase the energy required over a wall that is insulated completely on the interior.
Moisture Control

Four inches of XPS is a great vapor diffusion resister and capillary break for inward moisture movement. There is still capillary wicking potential through the footing into the interior surface of concrete resulting in moisture at the interior surface evaporating into the interior space if it is not detailed correctly. This potential moisture issue can be solved by using a capillary break (either liquid applied or plastic based) on the top of the footing as noted in the design details in figure above. Unlike some of the other proposed foundation wall systems, the exposed concrete in this system will provide
moisture buffering capacity, once it has dried.
Constructability and Cost

This construction strategy is not very common, but is very durable because the XPS is sealed into the concrete and protected from interior and exterior damage. This wall design is more expensive than installing 4" on the interior or the exterior.
Other Considerations

This proposed wall type may not be locally available.
---

Reference
Mitalas, G.P., Calculation of Basement Heat Loss, National Research Council Canada.